HIPAA compliant File Transfers for Medical Transcriptionists!
The easy secure way to transfer files over the Internet!!!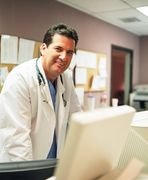 Doctors and staff can transfer their digital audio files to the transcriptionist. The transcriptionist can transfer documents back to the Doctors. Easy to use even for the non-technical. All you need is an internet connection!
You ( and the users you set up ) upload and download files right from your own section of our secure web site. HIPAA compliance and encryption are at your fingertips with Secure SSL connections.
Simplicity
The Fast and Easy way to tranfer and share patient notes and large audio files for dictation.
A simple to use alternative to other more complicated and limited methods such as FTP or Email.
No software needed
Easy to use and understand interface.
Intuitive and useful online reporting features tell you who is uploading/downloading, what and when.
HIPAA Compliance
Secure Internet Server with all the tools you need for HIPAA Compliance.
Optional secure ( SSL ) uploads and downloads at no additional costs
You specify each users upload, download, and delete capabilities
Each user gets his/her own list of files he is allowed to download
Optionally include detailed file descriptions with each file
All uploads and downloads are done through your own secure section of our web site
Built in file security plus tips to make your files even more secure
Firewall protected server to protect your files
Powerful
Company branding. Once your users login, all pages contain your company name.
No limit to the number of users you can set up.
No limit to hard drive space available.
No limit to the length of time you can store your files on our servers.
Servers connected to multiple T3 lines for maximum speed.
Affordable
Flexible pricing. No set rate. Only pay for what you use.
Pricing is based on bandwidth used and maximum hard drive space used. This can be easily monitored with our powerful online reporting features.

Try out our system by uploading and downloading files from our demo account. Open a new account now, you can start transferring files immediately. Please contact us if you have questions or need more information.